The Hutchinson Regional Medical Center (HRMC) has been challenged perhaps more than ever recently, striving to keep up with the demands and additional safety precautions of the COVID-19 pandemic. And although they've been under pressure to meet patient and community needs, it's what's under the hospital that's bringing hope in this moment.

Stepping Through Time, A Historical Timeline Mural by artist Brady Scott is nearly finished along one wall of the 300-foot underground tunnel connecting the hospital and what used to be the Dillon Living Center, now Hutchinson Regional Healthcare Annex. This project was funded by the Pathways to a Healthy Kansas grant program from Blue Cross and Blue Shield of Kansas.

"Unfortunately, the walking tunnel is closed to the public for now, but we look forward to the time when the community can enjoy the walking tunnel once again. After all, that's what the mural is all about--the community," said Sue Wray, Director of Communications and Foundation for HRMC. "In many ways, the hospital is the hub of the community. And unlike nationally-owned hospital chains, we're locally held. That's just not common anymore, but it's something we cherish. We're more flexible to meet the community needs, and the mural is reflective of the long history of community-centered healthcare in Hutchinson."

Every 50-foot section represents 30 years in Hutchinson's healthcare timeline, but perhaps it's more than just history being told--perhaps it's hope.

"When I first started this piece last year, of course we had no idea what was going to happen this year. I wanted to capture Hutchinson's healthcare history in an interesting and colorful way, but we didn't realize we'd be in the middle of making history," said Scott. "Our next section will represent the future of healthcare, and we're currently in the planning stages of what that might look like."

Beginning in 1900 in black and white, then shifting to sepia before bursting into full color with help from Scott's daughter, Jade Zoie, the mural tells the story of how Hutchinson's healthcare resources have evolved and changed to meet the needs of the community, and the nation. There's even a portrayal of another time we faced another national healthcare crisis--polio.

"I did a lot of research and tried to find imagery that really stood out and was specific to that moment. The iron lung was definitely one. I also wanted to capture some of what was going on in the nation and world, as healthcare is so much a part of that. So in the 1960s you have the Vietnam War and the Civil Rights Movement. There again, you have something we're talking about today. This year has been a reminder that we're always making history," said Scott.

When asked whether or not he thinks the mural is a source of inspiration for others, Scott maintains that public art is exactly that: up to the public to determine its meaning.

"I can't say that was my intention from the beginning, but this year's events have certainly changed how it could be interpreted. I wanted it to be visually appealing and poignant, and I hope people receive it well. So far the feedback has been very positive, and has gotten people thinking about themselves and their history. But that's the thing about public art, or street art. Once I'm done, they can interpret it how they see fit."

Sue Wray's interpretation is one that can serve us all well during these challenging seasons:

"For me, the mural tells our story. The art captures the pain, but also the victories. These times are really hard. But we've been through hard before. And we got through it. And that's hopeful."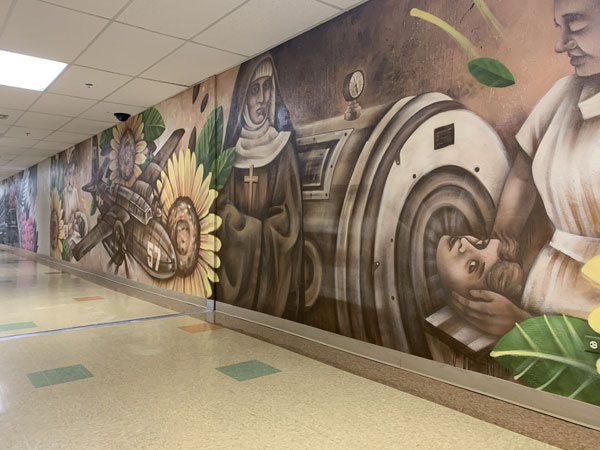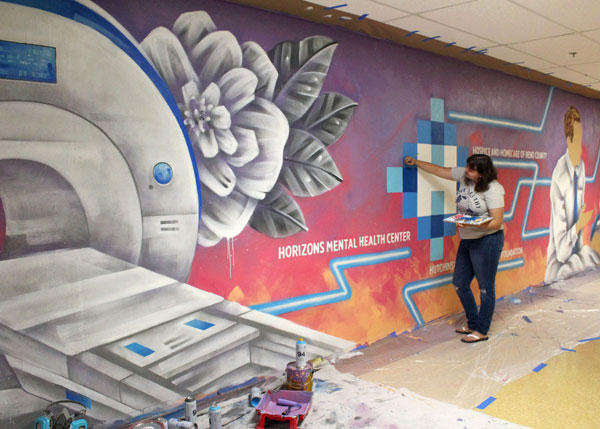 Above: The walking tunnel located beneath Hutchinson Regional Medical Center has been used for year-round exercise by the staff and public, but a mural brings new life and a sense of community into the hallway.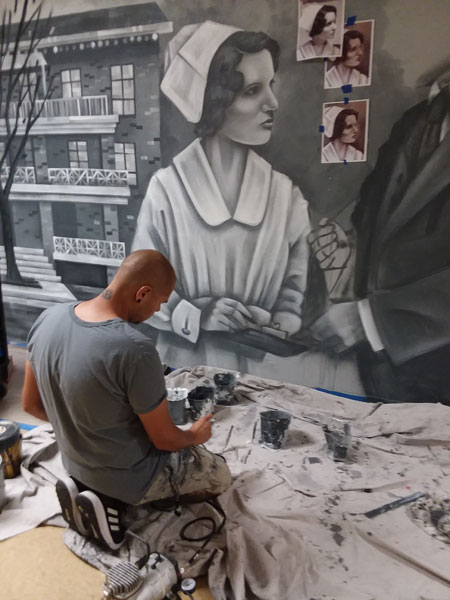 Above: Local artist Brady Scott is renowned for his exceptional murals all around the community of Hutchinson and beyond. This love for his community is evident in the carefully crafted motifs and depiction of the history of healthcare in Hutchinson.